Regular price
£46.00
Sale price
£56.00
Unit price
per
Sale
Sold out
There's no better time than now to go ahead and wrap your Whippet in luxury with this stunning water-resistant, windproof raincoat.



Whippet Size Chart
| | | | | |
| --- | --- | --- | --- | --- |
| Size | A - Neck | B - Chest | C - Back Length | D - Waistline |
| XS | 24 - 27 | 40 - 48 | 36 - 41 | 30 - 35 |
| S Slim | 24 - 27 | 40 - 48 | 43 - 46 | 30 - 35 |
| S | 27 - 33 | 48 - 58 | 43 - 46 | 35 - 40 |
| M Slim | 27 - 33 | 48 - 58 | 48 - 52 | 35 - 40 |
| M | 30 - 35 | 58 - 63 | 48 - 52 | 40 - 45 |
| L Slim | 30 - 35 | 58 - 63 | 54 - 56 | 40 - 45 |
| L | 33 - 38 | 63 - 69 | 54 - 56 | 45 - 50 |
| XL Slim | 33 - 38 | 63 - 69 | 58 - 62 | 45 - 50 |
| XL | 35 - 41 | 69 - 71 | 58 - 62 | 50 - 56 |
| XXL Slim | 33 - 38 | 63 - 69 | 63 - 65 | 45 - 50 |
| XXL | 35 - 41 | 69 - 71 | 63 - 65 | 50 - 56 |
Not 100% sure which size to choose? We are always more than happy to help. 🥰 Send us their measurements through 'Ask a question' below or DM us on Instagram @speedraydesignwear 🐾
Description:
Don't let your Whippet take to the streets and countrysides without looking the very best in this admired stylish raincoat. If you and your Whippet have found yourselves waiting for the rain to pass before getting out, then this is essential for the wardrobe.

The Tegan offers a superb fit, that hugs the unique sighthound shape, covering the entire back for full protection. Luxurious, lightweight and water repellent. The Tegan is designed with a stunning minimalistic look to complement the unique style of your Whippet in this lush deep olive.

The additional protective layer of our coat keeping your Sighthound dry, even when in full zoom mode, is what makes the experience so much more enjoyable during those rainy days. The neck drawstring feature keeps the coat secure, acting as a hood to protect the ears on those very wet walks. This feature also helps prevent the coat from blowing around, along with its velcro fitted belt for ease of adjustability, during windy walks and an extreme burst of energy (Zoomies!).

Lined with black Airtex mesh, allowing air to circulate yet with a super soft texture making it comfortable to wear and staying nice a dry throughout.

We've found the ability for this coat to be easily folded away either into a small bag or coat pocket really helps in certain situations, especially with unpredictable weather. Designed to be worn with or without a jumper or fleece.

This coat is perfect for every season and offers a high-quality, stylish design that looks beautiful while worn and is guaranteed to receive plenty of compliments from others!
Key Features

Made from water repellent fabric

Lightweight and practical 

Warm and comfortable to wear

High-quality, soft, durable material
Easy to layer up with a jumper
Stylish design that will complement your Whippet perfectly
Comes in a lush olive colour 
Available in a wide variety of sizes for that perfect fit. 
Washing Directions
Machine wash at 30-degree non-bio

Quick-drying
Please refer to our size chart before ordering. 

All our clothing range is handmade to order in the heart of Lancashire, UK. 
Options:
Collar hole - Our collar holes standard placement is 2 inches up from the base of the snood. The collar hole is placed vertically with an opening of 2.6 inches. 

We can adjust the placement or opening to fit your collar and lead set upon request in the basket notes if needed.
Harness hole 

- Our harness hole is placed 3 inches down from the base of the neck. The harness hole is positioned horizontally on the back, with an opening of 2 inches, designed with protective neoprene padding. This allows you to push through the harness ring securely and adds durability to the opening. We are limiting the risk of water passing through, creating a tighter seal, where the lead attaches to the harness. We can adjust the placement to fit your specific harness upon request in the basket notes if needed. 

 

 
If you would like your coat to be made with both the collar and harness hole. Please select the harness hole-tab above and let us know in your basket notes, before proceeding to checkout, that you would like both.
Please keep in mind. Requesting for both options or making any changes to our specifications will not qualify with our returns policy, as this will categorise as a bespoke coat, made to your personal preference. Please do contact us first if you are not sure about sizing.
Share
View full details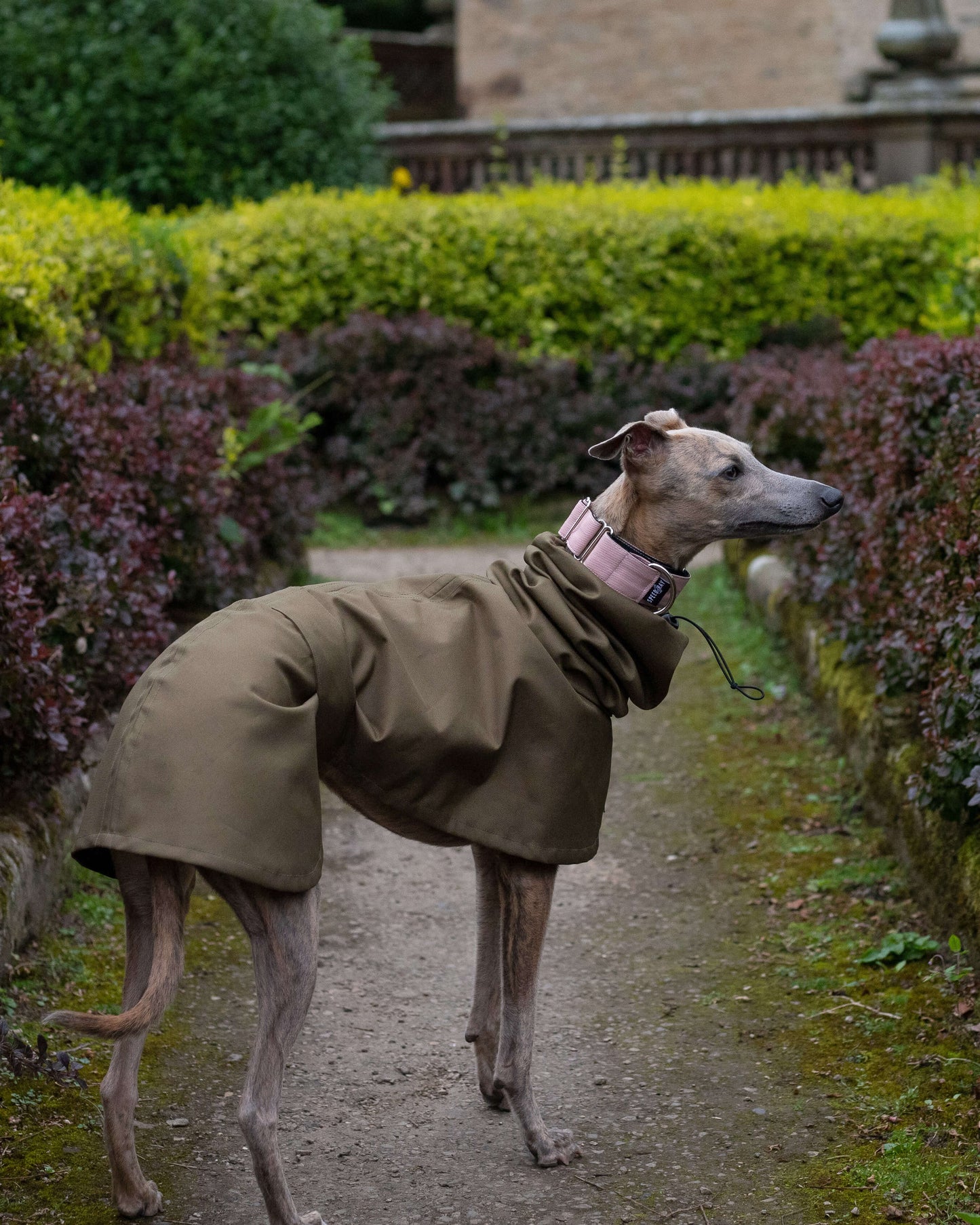 Fulfilment Times
All products are beautifully handmade to order in the UK

Adult Raincoats - 2 - 3 Weeks

Puppy Raincoats - 1 - 2 Weeks

Jumpers - 1 - 2 Weeks

Collars & leads - 1 - 2 Weeks

Snoods - 1 - 2 Weeks

Gilets - 1 - 2 Weeks

 

Updated - 28/09/2023

We've created a special relationship with our lovely team of local seamstresses to bring you the very best of Sighthound fashion, practicality & overall experience.

Our products are individually handmade to order in the UK, preventing over-production or waste of materials.

Today, we have 8 Amazing full & part time seamstresses, all working from home, locally to ourselves in Lancashire. They adore this opportunity! Sharing their amazing sewing experience & skills through our designs.
Delivery Information (very important for our international furiends - Please read)

This page contains delivery options available for UK, Europe & Worldwide residents, customs information for orders being shipped outside the UK and what to do for a change of address.

 

The delivery information below is applied after your order has been made and dispatched.

  

UK Delivery Options

- Royal Mail Tracked 48 - FREE on all orders over £80

Tracking to delivery point and aims to deliver in two to three working days.

Tracked to delivery point.
SMS or email notifications to recipients.
Change your delivery options before delivery is attempted.
Flexible delivery options available - including Safe-place and Delivery to a preferred neighbour.

- Royal Mail Tracked 24  

Tracking to delivery point and next working day delivery aim.

Tracking to the delivery point.
SMS or email notifications to recipients.
Change your delivery options before delivery is attempted.
Flexible delivery options available - including Safe-place and Delivery to a preferred neighbour.

Europe & Worldwide Delivery   

- International Tracked 

Europe delivery aim: 3-5 working days - Standard rate of £14 - Free on orders over £120
Worldwide delivery aim: 5-7 working days - Standard rate of £20 - Free on orders over £160
Fully tracked to the delivery point
Online delivery confirmation

 

Important Information

Please note, most international items do not get tracked anymore in Royal Mails system due to COVID-19. The parcel will fall into your local postal operator's system when the items have left Heathrow worldwide distribution centre and reached your country. In most cases your local postal service will provide continued tracking. This will be linked through the tracking number you are given from us. If there is a delay, it may be that your order is held up in customs. 

.

Following Brexit, unfortunately, If you are choosing to order from us overseas, you may be subject to pay VAT and import duties on the goods ordered. Sadly we cannot guarantee you won't be. This is imposed once your goods reach the specified destination.

.

If this is the case, for your order to be released and delivered to your chosen shipping address, within Europe, this could require an additional charge. Please account for any additional charges before placing your order.

.

Customs policies vary depending on your location.

.

We have no control over these charges and cannot predict what they may be.

.

There are multiple options available to find this information. If you are unsure, please contact your local customs office about any aspect of cross boarder shipping or further information you wish to know.

.

Speedray Design Wear cannot be held responsible for any cost, delays or issues that occur from shipping outside of the UK.

.

We have so much love and support outside of the UK. We hope this changes soon! To help the best we can. We do offer Free shipping over £100 within Europe and there are discounts codes available to use. Orla10 will give you 10% off if you don't have one. To help mitigate your risk, we recommend keeping your order below £130. If you would love to get more items, consider splitting your order to match our different handmade fulfilment times. Again, this is only a suggestion. 

.

Thank you so much. Please note - any orders returned to ourselves due to not being claimed from customs will not qualify for a refund on the delivery cost. You will only be refunded for the goods, once we've received them, safely back. 

Shipping outside of Europe will continue as normal.  

.

Changes To Your Delivery Address   

If there are any changes to a shipping address, please contact us as soon as possible through info@speedraydesignwear.com. If the order has not yet been shipped we will be able to accommodate any changes. 
Stylish and practical
We recently purchased our second TEGAN whippet raincoat, and we couldn't be happier. The product looks so well made, and it fits like a glove. Chloe gets so many admiring looks on walks, and she loves wearing it too. The lead hole is super useful, as is the drawstring around the neck. We think this coat should be called the 'Pawdery Hepburn' :)
Olive raincoat
What a gorgeous coat! So practical, lovely thick waterproof material, and great to have the option of a harness hole. It doesn't slip around him when he's running around either so won't trip him up which is great. We'll be getting a red one next!
@frankkthewhippet
Franks first raincoat as he's 5 months and we absolutely adore it! The quality is insane and for a handmade item it was shipped to us so quickly 🤩 I can't wait to build Franks collection !🫶🏻 Lovely brand and people too! Thanks guys 🤍🐾
Great jacket but communication on delays could have been better
Great jacket but nearly 6 weeks from order to delivery (including royal mail strikes)!
Better communication on status of order would have been appreciated.